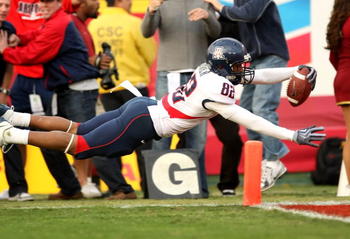 Wide receivers are an integral part to any passing game and these guys will be moving the offensive gears for the Pac-12 in 2011.
Thanks to the abundance of talent at quarterback in the Pac-12, the wide receivers of this conference will be presented with copious chances to prove their worth.
While there are a handful of names that are expected to shine in the national spotlight, there could be a few on this list that take the country by surprise.
Here are the Top 10 wide receivers in the Pac-12.
No. 1: Juron Criner, Arizona
Juron Criner returns for his senior season at Arizona and if it is anything like his last, it should be spectacular.
Criner ranked seventh in the NCAA in 2010 with 95.7 receiving yards per game and first in the Pac-10 with 83 receptions. With Nick Foles also returning to Tucson, expect this on-field duo to spark fireworks the entire season.
No. 2 Jermaine Kearse, Washington
Many people are concerned about how the departure of Jake Locker will affect All-Conference wide receiver Jermaine Kearse.
Kearse is an absolute beast and should be able to succeed with a one-armed midget throwing the ball to him. If Keith Price can pass the eye-test after a few weeks, this combination could keep the Huskies in contention for the North Division Title.
No. 3: Marquess Wilson, Washington State
For as much as
I like to rag
on Washington State, Marquess Wilson is the one area about the Cougars that actually intrigues me.
Wilson quietly put up respectable numbers during his freshman season, ranking 17th in the nation in yards per reception (18.29) and second in the Pac-10 in yards per game (83.8). Standing enormous at 6'3", 173-pounds, Wilson is primed to exceed last year's totals.
No. 4: Marvin Jones, California
It can be easy to dispel Marvin Jones based off his mediocre numbers last season. With only four touchdowns and 49 receptions, the world didn't really get a consistent opportunity to see this kid.
Despite this apparent lack of stat production, Jones managed to rank sixth in the Pac-10 with 63.0 receiving yards per game (fourth amongst returning wide receivers). Jones came to Cal as a four-star recruit, but has yet to really live up to the fans expectations.
Cal's new quarterback could fit Jones's speedy style a little better, which could ignite his long awaited breakout year. Better late than never…right?
No. 5: Chris Owusu, Stanford
Stanford might not
need a top tier receiver
to succeed in 2011, but it is nice to know that one could potential be in their stable.
Chris Owusu definitely can become that No. 1 receiver for the Cardinal, possibly even a national star if he can control his chronic disease of ball dropping. With Andrew Luck slinging the passes to him, he will have only himself to blame if he doesn't exceed expectations this season.
No. 6: Robert Woods, USC
Robert Woods did not waste any time getting his name in the papers in Los Angeles, putting together impressive numbers in his freshman year.
With the departure of Ronald Johnson, Woods will need to become that "go-to" guy for Matt Barkley. The former five-star recruit definitely has the talent to seamlessly slip into the role. Finding a rhythm early and often with Barkley will be the key to USC's "sanctioned" success in 2011.
No. 7: Keenan Allen, California
Keenan Allen hit the touchdown trifecta last year, notching a receiving, rushing, and passing touchdown for the Bears.
Allen will probably lose some receptions to Marvin Jones in 2011, but don't be surprised if he ends the season with more yards and touchdowns. Allen definitely showed signs of promise as a true freshman and it would not be shocking for him to reach his five-star potential before the end of his sophomore season.
No. 8: Markus Wheaton, Oregon State
Markus Wheaton led all Beavers in receiving yards last year (660) and will be looked to be the leader of the corps again in 2011.
There is a huge cloud of uncertainty hovering over Oregon State's offense this offseason. The Beavers' may need to rely on the passing game more this year than in years past, which should mean more chances for Wheaton to put up competitive numbers.
No. 9: Lavasier Tuinei, Oregon
Oregon's top two wide receivers have moved on, leaving an enormous question mark for the Ducks at wide out.
Lavasier Tuinei is expected to step into the role, but it will really depend on whether or not he can stay healthy. If he can avoid the annoying injury bug, he will have an opportunity to make a huge difference in the Ducks' offense.
No. 10: James Rodgers, Oregon State
James Rodgers is a bit of wild card for the 2011 season.
Coming off of two knee surgeries this off season, it is pure speculation whether or not he can return to the production levels in which he left.
However, if he can bounce back to his previous form, the Beavers could have a very potent weapon on their hands.